On March 9th, Senators Gardner (CO), Manchin (WV), and 56 other bipartisan Senators introduced a historic bill to provide significant funding to increase public access to public lands and waters. Senate Bill 3422, the Great American Outdoors Act, will provide $9.5 billion over 5 years to address our public land maintenance backlog (totaling $12 billion), with nearly $3 billion set aside to benefit lands and waters that sportsmen and women depend on. S. 3422 will also provide permanent and full funding for the Land and Water Conservation Fund at $900 million annually.
Your support, as a conservationist, is necessary to ensure the passage of the Great American Outdoors Act. This legislation already has support from President Donald Trump and 43 sportsmen conservation groups, including Safari Club International, Congressional Sportsmen's Foundation, Ruffed Grouse Society, National Shooting Sports Foundation, Pheasants Forever, Ducks Unlimited, and the National Wild Turkey Federation.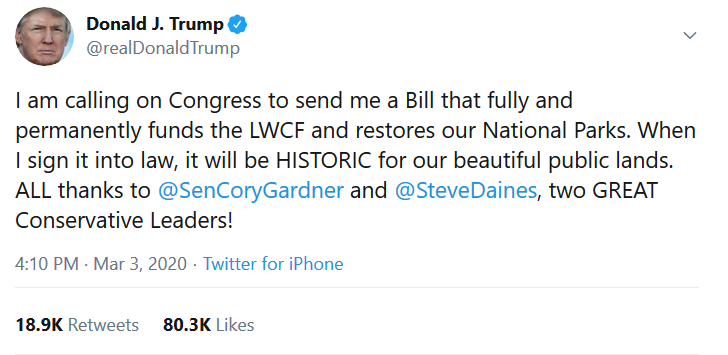 Enacting the Great American Outdoors Act will be among the greatest conservation victories in our lifetime and has the potential to be the most significant step that Congress has taken to drive public land access and conservation to benefit sportsmen and women in decades. It will expand outdoor recreational opportunities for millions of hunters and anglers, while spurring local economic development in communities across the country.