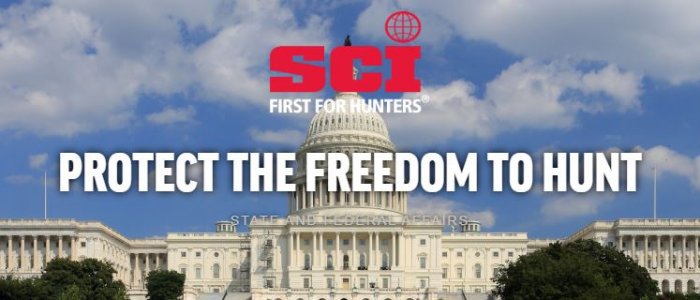 International Government & Public Affairs
1: SCI Celebrates Withdrawal of David Chipman's Nomination
Thanks to the efforts of Safari Club International (SCI) and other Second Amendment advocates, sportsmen and women across the country are celebrating the news that the Biden Administration has withdrawn David Chipman's nomination to serve as the Director of the Bureau of Alcohol, Tobacco, Firearms and Explosives (ATF).

Full Article Here – SCI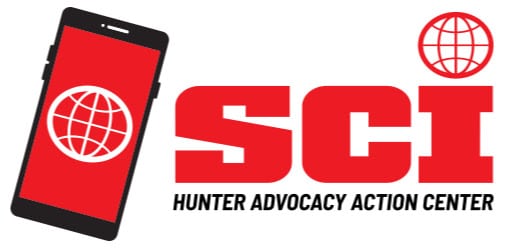 2. HAAC Campaigns
Protect Legal, Regulated Trade in Wildlife – Animal rights groups have petitioned USFWS to ban legal, regulated trade in wildlife. They are exploiting the COVID-19 pandemic to stop imports, exports, and interstate shipping of wild mammals and birds, whether alive or dead.
Make no mistake: this is a veiled attempt to shutdown hunting here and abroad. SCI needs your help to defeat this dangerous attack on our community and stand for the rights of hunters. Sign our petition TODAY!

Take a stand against Big Tech – Censorship of hunters on social media is on the rise. From blocking users who post hunting related photos, placing "sensitive" descriptions on our posts, or outright banning us from their platforms – it's time to take a stand.
Hunters drive conservation, wildlife management, and sustainable use. We contribute billions to conservation funding, improve critical wildlife habitat, and support local economies – but in the eyes of big tech and social media companies, we are treated like we are the bad guys for participating in a legal, regulated activity that provides immense benefits…
Add your name to our petition so we can show Big Tech just how big the hunting community really is.

Want to stay up to date on all our fights across the country? Register for our Hunter Advocacy Action Center today.
3. SCI Announces Conclusion of Texas Trophy Hunters Association Acquisition
Safari Club International (SCI), the leader in defending the freedom to hunt and promoting wildlife conservation worldwide, and Texas Trophy Hunters Association (TTHA), Texas' leading organization for promoting, protecting, and preserving the state's hunting heritage for future generations, are excited to announce they have concluded their transaction whereby SCI has acquired TTHA.

Full Article Here – SCI
4. 19th Annual AWCF Scheduled as Hybrid Event for 2021
Safari Club International Foundation (SCIF) is preparing for the 19th African Wildlife Consultative Forum, to be held November 8-12, 2021. This year's Forum is hosted by the Botswana Department of Wildlife and National Parks at the Cresta Mowana Resort in Kasane. Due to continuing COVID-19 restrictions, in-person capacity is limited to only 50 people, leading SCIF to organize the event as a hybrid meeting with a number of participants joining the discussions online. Botswana had also hosted the 2020 AWCF, which was held completely on a digital platform.

Full Article Here – SCI
5. How Hunting Saved the Bontebok
The bontebok is one of the most extraordinary examples of species population recovery and habitat protection brought about by the efforts of hunters. At the brink of extinction in the early 1900s with approximately 120 individuals, the bontebok population today has rebounded to around 9,150 animals. This fantastic recovery is a testament to the work of hunters and demonstrates the imperative to protect hunting around the world.

Full Article Here – SCI
6. SCI/F Supports Indigenous Peoples and Communities at IUCN World Conservation Congress
Today SCI/F affirmed the importance of indigenous peoples and local communities in wildlife conservation at the IUCN World Conservation Congress currently held in Marseille, France. IUCN members, including SCI/F, voted on 41 different motions regarding conservation around the world. Holding the proxy for several other North American organizations unable to attend due to COVID-19 travel restrictions, SCI/F voted to ensure that sustainable use of wildlife remains at the forefront of conservation.

Full Article Here – SCI
7. SCI 50th Anniversary Commemorative Rifle-Pistol Project Moves Forward
As this crazy year continues to fly by, anticipation of this coming year's Convention continues to grow. I am so much looking forward to the long-awaited reunion with all my great friends at this year's Convention.

I am especially excited for the official unveiling of the 50th Anniversary Commemorative Rifle-Pistol project to SCI members. My team and I have been working on this project for nearly two years at this point.

Full Article Here – SCI
8. Update from FACE, the European Federation for Hunting and Conservation
Farm to Fork Strategy: Last week, the European Parliament AGRI Committee voted on the Farm to Fork Strategy. Of particular concern to hunters was Amendment 389, which "attempted to misinterpret and blur the boundaries between legal and illegal wildlife use and trade," citing concerns around the COVID-19 pandemic and spread of zoonotic diseases. A compromise amendment replaced 389 and excludes wildlife and hunting (update)?

Lead Ammunition: A proposed ban on lead ammunition will have a drastic impact on hunters and wildlife. It will create an economic loss of 5.7 Billion Euros at a time when the pandemic has already raged havoc on economies around the world. Lead ammo alternatives are inaccessible for many hunters, leading to decreased participation and continued loss of habitat and wildlife conservation.
Full Article Here – FACE